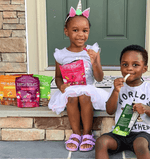 6 Things You Need To Know About Fresh Bellies
Some of you may know us as your savory kid food brand or your fave segment on Season 10 of Shark Tank (wink, wink). Some of you may be new around here and just dipping your toes into the world of adventurous eating. However you found your way, we're so happy you're here!
To bring everyone up to speed about Fresh Bellies — who we are, what we believe in and what we do (and don't), we thought we'd share our top six things to know about us. You can think of this as a refresher if you're a connoisseur or a 101 if you're new to our family.
Let's get started shall we?
We serve veggies as veggies, and fruit as fruit
As a team, we're dedicated to combating childhood obesity and encouraging adventurous eating. Our approach is simple: when babies eat fruit, they should taste fruit, and when they eat veggies, they should taste veggies. This does not mean eliminating fruit from a child's diet; fruits have important nutrients too. It means that instead of masking veggies under sweet or fruity flavors, we give ingredients like beets or peppers their time to shine. The goal is to help babies develop an appreciation for savory flavors when their preferences aren't set yet. That is, when they're first starting solids.
We are the beginning of a looong journey
As much as we'd love to say eating bold, bitter and earthy veggies is easy and we guarantee love at first bite, this just isn't how learning to eat works. Eating is a learned behavior and like any other learned behavior (think riding a bike or reading!), we get better at it with repeated practice and exposure.  There is no magic wand to make kids love all their veggies, there is only practice, practice, and more practice. It takes time and a lot of patience, but we are right there with you. Studies show that by exposing our children to the same flavors multiple times (10 or more), and in different settings, they become more accepting of those same flavors over time. Yet, 1 out of every 4 parents draws premature conclusions around their child's food preferences after merely 2 or fewer exposures. If the beets end up on the floor on the first day, give it a few days and try again. Never force your baby to eat something he/she is rejecting, but don't give up on food or your baby, either. With practice comes familiarity, which eventually leads to healthy palate formation.
Everyone from baby to big kids can enjoy our products
Our snacks are good right out of the bag for adventurous eaters 12+ months to 100+ years. They're a great addition to diaper bags, lunch boxes and even sports duffels. The best part of our snacks is that your little one is getting a nutritious dose of real flavor with every bite. What's better than a snack you can feel great about? As for our purees, they're perfect straight from the cup for babies who are still on a pureed diet. For toddlers and older kids, however, our purees can and should be used as more than just purees. They can be used as a spread for toast (with olive oil and parmesan cheese), a sauce for pasta, a dip for pita chips, crackers or raw veggies, and even as a pairing to plain yogurts and other breakfast goodies. 
We use 7 [pronounceable] non-GMO verified, Kosher certified, organic ingredients or less
Our purees are USDA Certified Organic and made with seven whole, natural ingredients or less. Our snacks are non-GMO verified, Kosher certified and made with four whole, natural ingredients or less.  We never use preservatives, additives, artificial flavors or added sugars in any of our food! If you can't find an ingredient in your grocery store, you won't find it in our products (there's no ascorbic acid in aisle 4, if you catch our drift).
We celebrate the savory
In the same way that exposing babies to unmasked veggies is important in training their palates, so is seasoning. By never masking vegetables with sweet fruit and seasoning with herbs/spices like garlic and thyme, we train little palates to take on bold and savory flavors from their earliest bites. Each Chef-formulated recipe teaches kids how to eat varied flavors so they are less likely to become picky eaters later in life.
We're all about the ceremonious spoon feeding
We know pouches, we see pouches, but we made a conscious decision not to be a pouch. Spoon feeding is a critical component in encouraging fine motor skills and teaching kids how to listen to their bodies. When you give little ones a chance (and time) to properly engage with a spoonful of food you're teaching them to savor flavors and listen to body's cues, important skills in preventing overeating. Spoon feeding also helps kids learn to appreciate meal times and encourages healthy eating habits for life.
If you've read this far, we're impressed! We hope you learned something new or interesting or just got to know us a little better. Thank you for joining us on this journey, for believing in us and supporting our mission. We're here because of you. ❤️